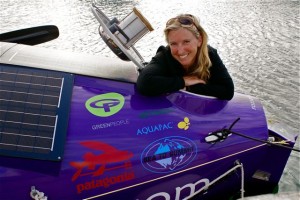 Since I last wrote, launch day has been pushed back again, by 24 hours, but is now holding steady and looking good for early Wednesday morning Fremantle time, which will be Tuesday night Pacific time.
This seemed a good time to let you know how you can follow along with my adventure over the coming few months, and point out a few new features of my website.
Conspicuous by its absence will be the RozTracker (aka EpicTracker). Due to increasing pirate activity in the Indian Ocean, we have deemed it prudent not to post my position online. So the map of my route will not be revealed until I am safely back on dry land, but there will be many other ways to follow my progress.
Blog: as always, I will be blogging daily on this website. Technology permitting (as it didn't last year!) I will also be posting photos of me, my boat, sea, and sky. And anything more interesting that crosses my path and hangs around long enough to be photographed. You can sign up to get my blogs via email, if you prefer, by entering your email address in the box to the right —-> where it says "receive blog via email".
Twitter: whenever I feel inspired.
Podcast: I'll be checking in weekly with Vic Phillipson to continue the Roz Roams podcast.
Facebook: Tweets and blog alerts will also be posted to my personal and public pages on Facebook.
Live webcast of departure: we're planning to livestream my departure on Wednesday morning via Ustream. I'll post the details as soon as I get them, including the URL where you can watch live as I launch myself on an unsuspecting Indian Ocean. Stay tuned.
Nomaddica: this is a brand new app, generously developed for me by Nick Jaffe of Arktisma, to help me raise the funds to pay for satellite phone airtime, without which there can be no blogs, tweets, or podcasts. I am inviting people to sponsor a mile (or more!) of my voyage for the bargain price of $10. $10 can buy:
– about half of a blog upload
– or a photo upload
– or half a phone call to my shore manager (aka my mother).
Check it out – click on "show interactive map" to get the full experience!
P.S. Mum sends her apologies if she hasn't yet written to thank you for sponsoring a mile. We've had a great response over the last few days, and she is struggling to keep up with her thank you emails. I thank you for keeping her so busy – it gives her less time to worry….!
Other Stuff:
Our campaign for a plastic-bag free Olympics runs on…. We had hoped to have a definite ban in place by now, but we still have some work to do. We are seeking to get as many signatures as possible on our petition in order to convince the powers-that-be to do the right thing.
As you probably know, more than 7 million tons of plastic trash reaches the marine environment every year. Even more goes into landfill. Most plastic is not biodegradable, and the chemicals it emits have been linked to human symptoms such as hormone disruption, breast cancer, prostate cancer, autism, Type 2 diabetes and decreased fertility. It has also been estimated that ocean plastics are responsible for the deaths of around 1.5 million marine mammals per year.
Please add your signature, and ask everybody in your network to do so too. I would love to see 100,000 signatures on there. Then they will HAVE to take notice!