Today has been exceptionally productive, with 62 nautical miles (about
71 normal miles) under my belt. That's more than a whole degree of
longitude. Woohoo! I would say I am well and truly past the point of no return now – and hopefully there will be no more reasons why I would need to.
Of course, there's no such thing as a free lunch, and no such thing as
free miles either. The conditions that have lent themselves to such a
magnificent tally have made life rather uncomfortable at times. As well
as the general bounciness and sporadic drenchings throughout the day, I
opened my galley (kitchen) locker today to find my food supplies and
kitchen equipment floating around in about a foot of water.
This locker had been leaking since the start, but this was getting
ridiculous. I was especially upset to find my last chunk of Jarlsberg
cheese swimming around with everything else. It doesn't seem to have
suffered too badly. I'll still eat it, at least until and unless it
turns green. Even I draw the line there. The last of my bread had to go
overboard to feed the fish today when it developed a fine growth of
green beard.
Something had to be done, or at least attempted, to resolve the leaky-galley problem, so I got out the roll of insulation tape that Glenn had brought over to the Abrolhos at my request. I've bunged it in around the seal, and so far it seems to be helping. The real proof of the pudding will be when I open up the locker tomorrow morning, after a
night that will doubtless see Sedna copping a few boatfillers.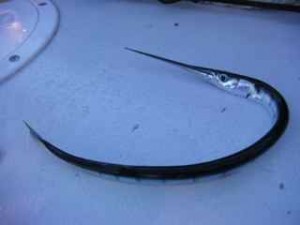 Other Stuff:
Happy Birthday to Cath Davidson on North Island today. Sorry I wasn't around to celebrate with you, but I'm sure you were glad to see me on my way, as I was getting really rather fond of your island home!
Sorry I forgot to attach the photos of my fishy yesterday. Not quite sure what happened there. So here they are. Wasn't he a handsome fellow?
It is an annoying quirk of my satphone/email software that it shows me that I have messages coming in, but then makes me wait a day or two before revealing them to me. I saw the messages being downloaded, but my inbox appears empty. Then one day, apparently at random, they will appear.
So the upshot of this is that I still haven't received any comments to respond to, and my laptop battery is about to go flat so if I'm going to get this blog on its way I'm going to have to sign off now. I prefer to do my recharging while the sun is up, as it's better for the batteries if I make hay while the sun shines.
I hope you're still out there, and that you're still commenting, and I'll get back to you just as soon as I can!
Sponsored Miles – not only has Roz done excellent mileage, but owing to other responsibilities, there was a longer gap between my readings of her position, so these miles represent 27 hours, not 24. Grateful thanks to all of these sponsors, some of whom sponsored more than one mile.
Kimberley Hughes, Lance and Kay Mamiya, Alun Rees, Thomas Johnson, Kapil Suvarna, Doug Grandt (for Beth and Larry). James van Bemmel. David Redman, Bleddyn Williams, Robert Anderson, Victoria Stanbach, Alan and Sharon Bosse, Maria Cristina Gallo Suarez, Gretchen Olson Kopp, Doug Grandt (for Garrett) Chris Oram, Rahmat Redzuan, Mary Kadzielski, Tamara, Kuropas, Hans Verwey, Brad McDonell, Rosi Hey, Michelle Urquart, Johnny Raven, John Miller, Ian Hamby, Barbara Nock (for Save Scotland's Seals from being killed), Doug Grandt (for Shelley), Vic (Sam) Jones, Laura Prouty, Graham Pugh, Mike Matthias, Lachlan Cotter, Gail Brownell, Doug Grandt (for Paulina), Jim Little, Victoria Stanbach, Laura McDonell.