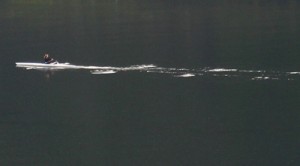 White Salmon, Washington
Well, maybe not a cruise exactly, as cruising doesn't normally involve blood, sweat and blisters.
My training is coming along well. As well as weights, circuits, running, yoga, racquetball and rowing on a rowing machine, I've been out in my Maas Aero sculling boat on the Columbia. My longest outing so far has been from the Hood River marina to Mosier and back – a distance of about 14 miles. Not a bad training session (about 2 hours) but still a long way short of the 8 hours a day I'm aiming to do on the Pacific.
Much as I like my WaterRower rowing simulator, it makes SUCH a nice change to get out on the water when conditions allow. The time passes a lot more quickly when the scenery is changing. And being chased down the river by a barge the size of a small town gives me a powerful incentive to keep paddling hard.
I'm keeping my boat in a friend's boathouse in the marina. It's very convenient as it saves me loading the Aero onto the top of Quackers (my yellow truck) every time I go rowing, but launching and disembarking in the narrow confines of the boathouse is a delicate balancing act. The boat is unstable until the oars are in the oarlocks and extended perpendicular to the boat, and there isn't room to do that inside the boathouse, so I have to partially extend them and then try to hold the boat level as I step in and push out. My training rows haven't turned into training swims just yet, but I'm sure it's only a matter of time…