In 2012 Sean Conway set out to become the fastest person to cycle around the world. He was on course for the world record, averaging an amazing 180 miles per day, when he was run over in America suffering a fractured spine. This ended his dream of the world record, but he still carried on at a reduced rate of 140 miles per day and arrived back in London just in time for the Olympics, having cycled 16,000 miles, 12,000 of them with a fractured spine.
Not to be daunted, he decided to make his mark instead by swimming the length of Britain, which he did in summer of 2013. It took him 135 days, during which he battled 20 foot waves, freezing water, getting stung in the face by jellyfish and losing more that 10% of his body weight.
He is the author of two books: Lands End to John O'Groats – the ride that started it all, and World Cycling Stripped Bare. He has two further books in the pipeline, High Water, and The Power of Two.
Sean has adventured by cycling, swimming, running, kayaking, motorbiking and… cheese rolling.
Thinking Adventurously
"Adventure isn't all about climbing mountains or rowing oceans. Adventure, in its purest form, is simply a way of thinking."
(Sean Conway)
I hope you're finding this series of podcasts as inspiring as I do. One of the themes that has really struck me during these last two conversations – with Anna Hughes and now Sean Conway – is that, with the right mindset, we can all weave adventure into our everyday lives.
I confess that this is NOT my normal modus operandi. Believe it or not, I am not a naturally adventurous person. While I can credit/blame my mother for an undeniably intrepid gene, I am also my father's daughter – my father, who believed his right leg had been designed just long enough to reach from the car seat to the accelerator (or "gas pedal" in North America). I am perfectly happy sitting reading on the sofa, or spending extended periods slaving over a hot laptop keyboard. I have to force myself to get outside and do some exercise.
But, inspired by Anna, Sean, and of course the granddaddy of microadventure, Al Humphreys, I am determined to adopt a more adventurous way of thinking.
Seems to me that a good place to start is with finding more interesting ways of getting from A to B. If Anna can cycle to Brighton for a cup of tea, or Sean can walk from Cheltenham to London for a New Year's Eve party, then surely I can think of a few interesting ways to get around.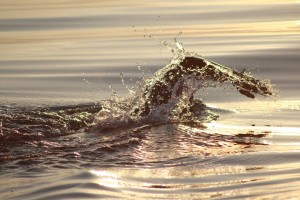 I was about to give myself a get-out clause and say that maybe I will wait until England is less rain-sodden and the weather is warmer, but then I read about Al Humphrey's circumnavigation of London via the M25 motorway in the snow – and damn the man – he's destroyed my excuses.
So what about you? What journeys could you liven up by making them under your own steam rather than by car or train? What hidden treasures might you discover en route? What new friends might you make?
And/or maybe we should all try cheese-rolling at least once in a lifetime….
"Life is either a daring adventure or nothing at all."
(Helen Keller)
To subscribe to the show via RSS or iTunes, please click on the appropriate button below.
Show Notes
1:00 A thank you to our sponsors, Audible.com, and Roz's book recommendation: The Power of One, by Bryce Courtenay
To claim your free audiobook, please follow the Adventure Podcast affiliate link
4:20 Introducing our guest, Sean Conway
6:30 Sean's adventurous childhood – chasing elephants out of the garden and flunking kindergarten
11:00 Thinking adventurously
12:15 Mount Kilimanjaro in a penguin suit
14:15 Expedition preparation and the round-the-world speed cycling bid
18:00 Photographing and videoing adventures – top tips from Sean on kit and techniques – REALLY GREAT TIPS!
24:40 StrongManRun
25:30 Sean's criteria: win it or have fun
26:35 Little Flying Cow – Sean's mascot and travelling companion
29:20 Swimming the length of Britain – a genuine world first
32:15 Tips on swimming 900 coastal miles (just in case you fancy it)
41:15 What next for Sean? (and another mention for Al Humphreys) – running Great Britain… and Africa?
NOTE: you can apply to join Sean for a leg of his GB run
46:15 A final inspirational message from Sean
Links
Sean Conway and Dave Cornthwaite video – very funny!
StrongManRun video – never seen anyone look so muddy and so happy
Stats on swim (scroll down)