I firmly subscribe to the view that the best way to travel is with little money and plenty of time. But in this phase of my life both money and time are in short supply. So I had only 2 days in my schedule to spare for Kuala Lumpur before meeting up with a friend to climb 13,500 foot Mount Kinabalu next week.
But it WAS worth it – the 2 days seemed like so much longer – in a good way. Travel, even in haste, definitely broadens the mind and gets me out of my rut (if I was ever in danger of falling into one). In just 48 hours I managed to see and do many things, and made several new friends.
Highlights of KL: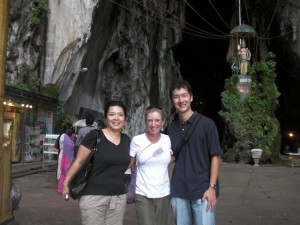 1. Afternoon and evening spent with Chee (Twitter handle @cheetweets, who contacted me when I put out a Tweet-appeal for a local "friend", works in KL for my old company Accenture) and Karen – visiting Batu Caves (NOT the Bat Cave!), the KL Tower, and enjoying a Malaysian meal so excellent that I ate until I thought my sides (or my jeans) would split. (The restaurant was a real locals' place, at Stadium Negara, Yap Kwan Seng Road.)
2. Conversations with a new friend in the hostel, who was just embarking on a journey of the little-money-lots-of-time variety. Long conversations over many beers, pondering on the joys of travel and the opportunities it presents for delicious serendipity.
3. View of Petronas Towers at night, lit up like two fairytale crystal castles (although had to force myself to enjoy the sight for what it was, and not to think about the electricity consumption, CO2 footprint, or the fact that Petronas is the huge Malaysian oil company which provides 40% of the government's revenue).
4. Internet the speed of light (in comparison with Tarawa and Madang, anyway).
5. Excellent value and friendly service at the Matahari Lodge. $12 a night for a single room, including breakfast and internet. (If you stay here, try and get a room on the 1st floor rather than the 2nd – shower water pressure MUCH better!)
6. Getting my hair done – at last! And thank heavens they coped okay with my blonde western locks.
7. Massage – full body shiatsu massage for an hour, for about $30. Bliss.
8. Window shopping in the Central Market. I'm usually not a shopper, for just so many reasons (financial, logistical, environmental), but suddenly all that oriental "bling" was just irresistible and I indulged in some very pretty bracelets.
Lowlights of KL:
Seeing shark fin soup on the menu in a Chinatown restaurant. Chee tells me that some shark fin soups have little, if any, actual shark fin in them, but nevertheless it is a symptom of a wasteful mindset that I would love to see change. If you're going to kill an animal for its flesh, at least have enough respect to eat the whole creature rather than cutting off its fins and tail and throwing the rest of the mutilated but still living animal back into the ocean to die. For more about shark finning, see these images at Alex Hofford Photography (although at least these ones look like the whole creature will be used) – and feel free to voice your displeasure to your local Japanese Consulate.
Three things you may not have known about Malaysia – because I didn't! (Source: iPhone app – The World Factbook)
1. Their king is elected from a pool of nine sultans, who choose a new one every four to five years.
2. The population is 50% Malay, 25% Chinese, 10% indigenous, 7% Indian and 8% others – a real Asian melting pot. About 25 million people live in an area slightly larger than New Mexico.
3. Malaysia lies just north of the Equator, partly on a peninsula bordering Thailand, plus  about one-third of the island of Borneo, which it shares with Brunei and Indonesia….
… which is where I am heading now. Today I meet up with an English friend, Nick, who has been working in Singapore for the last year. He and I first met while taking a Sea Survival course – me in preparation for the 2005 Atlantic Rowing Race, he in preparation for the Clipper Round The World Yacht Race. He is now signed up to do the Atlantic Rowing Race 2011, so we'll be trading my ocean rowing tips for his Asian travel tips.