Wouldn't you know it? At exactly the worst possible time, I have come down with a head cold / cough / ear infection, so am feeling quite heavily under the weather at the moment. But to keep the show on the road (ish) I am posting some thoughts that I had earlier in relation to Identity. Thank you all so much for the emails and comments I received on that topic further to my previous blog post. Sorry for not participating more in that discussion, but it has been a crazy time as I try and settle into student life. I will try harder!
We had our seminar on Identity last Monday afternoon with the wonderful Professor Tony Kronman from Yale Law School. It was a lively and enlightening discussion, but didn't wave a magic wand and provide a cure-all answer. I suppose that, in a complex world, there ARE no cure-all answers. All there can be is a greater understanding, and tolerance, of points of view other than our own.
Anyway, on to my earlier thoughts….
Amin Maalouf writes, "No doubt the scale on which globalization is taking place, together with the dizzying speed of change, make all of us feel as if we're being submerged by it all and unable to affect the course of events. But we must keep reminding ourselves that this feeling is extremely widespread, and shared by those we tend to think of as safely ensconced on the top of the heap."
In other words, most people perceive that others are in charge, but really nobody is. Identity determines who we perceive as being "in charge" – God, corporations, government, etc. But is anybody really in charge? Most people are running scared, feeling under attack. Even corporate fat cats feel threatened by changing times, social media, exposure of shady practices, being overtaken by the younger generation. If most of the human race is afraid, what will the consequences be? Not good.
The biggest single gift we could give humankind would be fearlessness. In reality, it seems that human society is a process of co-creation, and if more people felt this privilege and responsibility, they would maybe be less afraid as more empowered, less helpless, therefore less threatened.
Of course, some things deserve to be feared. When I contemplate matters such as runaway climate change, or the parlous state of the oceans, I feel justifiably afraid. But I've learned from experience to control the things I can, and park my anxieties about the rest. They are just a drain on my energy. But right now, most of our scary stuff is human-made and therefore falls within realm of what we can control.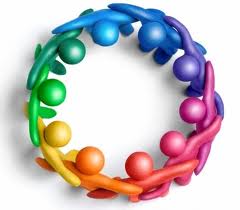 This will call for a different kind of leadership, that doesn't subscribe to labels such as capitalist or socialist, outdated notions that have been tried and found wanting. Maalouf again: "The twentieth century will have taught us that no doctrine in itself is necessarily a liberating force: all of them may be perverted or take a wrong turning; all have blood on their hands – communism, liberalism, nationalism, each of the great religions, and even secularism. Nobody has a monopoly on fanaticism; nobody has a monopoly on humane values."
As much as possible (and I don't know how much that is), government should be by referendum, bringing politics to the people. Make them feel empowered and they will rise to the challenge, not only considering their own views and getting better informed, but also recruiting others to their views to secure votes. This could be the beginning of genuine democracy.
There would still exist a need for strong and wise government because it becomes crucially important how question is phrased, as Dan Ariely has so eloquently argued in his TED Talk.
Government would also need to ensure that choices are appropriately restricted so as not to be blatantly inconsistent with existing legislation and infrastructure. (Further notes on organizing a referendum are contained in this document at lawandhumanrights.org.)
The point is maybe not so much to allow the people to govern, but to make them feel that they are engaged in the process of government, that they don't just have to choose one party or the other and then put up with everything that party stands for, the bits they don't like as well as the bits they do.
This increased engagement will increase participation, hence increasing feelings of control, reducing fear and stress. (It has been shown that perception of lack of control is key cause of stress.)
According to Maalouf, individuals shape religion: "it does seem to me that the influence of religion on people is often exaggerated, while the influence of people on religion is neglected." Likewise, individuals shape society at the same time that society shapes individuals. (I am currently reading a book by Yale Professor Bruce Wexler, which makes this point – Brain and Culture: Neurobiology, Ideology, and Social Change
.)
So there is no need for individuals to feel disenfranchised or threatened. They just need to know how empowered they are.
What do you think? How does democracy work in your country? Or doesn't it?
Do you feel that your voice makes a difference, or would you prefer a different system? Maybe smaller units of governance?
I'd love to hear your thoughts. Please post a comment and get the discussion flowing!