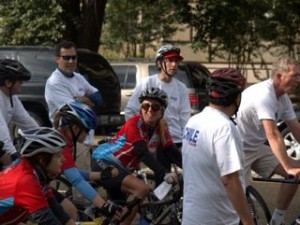 This September I'll be taking part in the California Climate Ride from Eureka to San Francisco. I did the East Coast version last year, and it was absolutely brilliant. We covered 300 miles from New York City to Washington, DC, through Amish country and some of the best landscapes the East Coast can offer.
It was an meticulously well-organised event. Each day we were given detailed and accurate directions, and an advance party would have also set out route markers along the way. Combined with the fact that I was rarely out of sight of the riders ahead, there was no chance that even a navigationally-challenged ocean rower could get lost!
The food was also excellent, with generous and tasty breakfasts and dinners, and regular snack stops along the way to top up the calorie count. Each evening we were entertained and edified by a broad range of speakers – including yours truly – before toddling off to our tents, cabins, or hotel rooms (the accommodations seemed to get more comfortable as the ride progressed) for a well-deserved sleep.
But best of all was the chance to meet and mingle with 150 like-minded individuals, many of them working full-time in conservation and climate professions. After 5 days I felt like I had made some real friends, and have seen many of them again since – including Alison Gannett, the extreme skier who was part of my Big Ben to Brussels team that walked 250 miles towards Copenhagen last year.
So this year I was delighted to hear that the proposed West Coast version was going ahead. At the suggestion of Caeli and Geraldine, creators and organisers of the Climate Ride, we're putting together a "Team Roz" and it would be fantastic if you could join us.
To register, go to the Team Roz page and fill out the form.
I'll be making a cross-country dash to join the Ride on Day 2, coming straight from the Ocean Champions reception in DC. I wish I could be there for the start – those redwoods look just incredible, as does the scenery all the days. If it is anything like the East Coast version, the organisers will have planned the route to be as scenic as possible.
I hope that some of you come and join us – I'd be over the moon if you could find the time to ride with Team Roz!