You can see ROZ'S ROUTE here. Each dot links to the blog from that day. 255 nautical miles to go.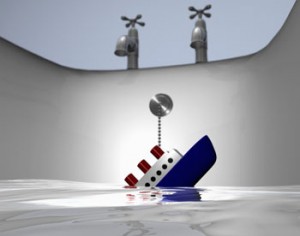 This morning I woke up and, like every other morning, the first thing I did after folding away my bunk was to grab a wet wipe, open the hatch, and head out on deck to do… what most people do first thing in the morning. I was squatting there on deck using the pee jug, when I sensed a presence behind me. I turned my head, to see an enormous cargo ship not two hundred yards away.
Oops.
I have got so used to having the entire ocean to myself that it hadn't even occurred to me to check that I was alone before performing my morning ablutions. I don't know if the crew got an eyeful. They were idling silently nearby as if watching me, so I'm sure that they had seen my boat. If they had binoculars, they would have seen me quite easily once I popped out of the cabin. I was too embarrassed to try and raise them on the VHF, so thankfully I will never know for sure just what they saw.
Another cargo ship passed by this afternoon, in the distance. After all this time alone on the ocean, it feels strange and a little intrusive to have all this maritime traffic passing by. I'm not sure I like it. I miss my privacy. Don't they realise it's rude to barge into my ensuite bathroom without so much as a by-your-leave?!
Other Stuff:
Slow progress today in light winds. Some days I wake up to a nice surprise when I turn on the GPS to find out how far I've traveled overnight. My best night on this voyage was 22 miles to the good. Last night I made only 2. But at least they were in the right direction.
Blogs from now on will generally be getting shorter. During these final miles, I need to be very focused on navigation. I'm aiming for a relatively tiny target after 4,000 miles of ocean. So I need to concentrate – not to mention row like crazy if it looks like I'm meandering off course. I'm on a good trajectory at the moment, but it would only take one mean old current, or a rogue eddy, or an adverse wind, and it could still all go awry. It ain't over till it's over.
Quote for the day – I couldn't find any quotes about going to the bathroom, so here is a fine Churchillism instead: "We make a living by what we get, but we make a life by what we give." (Winston Churchill)
Picture: Freighter in the bathroom – not the bathtub! Rita. (From the internet.)
Sponsored Miles: Tom Gignoux, Mary Lu Kelley, Larry Grandt, also Robert Smith and Chris Wagner. Thank you for your contributions.